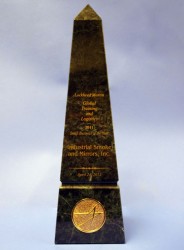 Lockheed Martin 2011 Small Business of the Year Award

Industrial Smoke and Mirrors, Inc. (ISM) exemplifies the degree of quality Lockheed Martin seeks in its suppliers. They provide total turn-key manufacturing in all disciplines including machining, welding, painting, fiberglass, and electrical and mechanical assembly. As both an engineering and fabrication house, ISM consistently meets our specifications and offers improvements. ISM delivered all 2011 program requirements on or ahead of schedule. This includes engineering, design and drawing delivery as well as manufacturing, modification and installation of components on the C-5 Maintenance Training Device program. The ISM team of experienced
professionals are dedicated to providing the best solutions to the most complex challenges with an innovative approach and maintaining high quality products.
Presented To:
Industrial Smoke and Mirrors, Inc.
Orlando, FL
Andrew Garvis, President
Nominated by:
Savitri Masih-Das, Subcontract Administrator
Training Solutions
Lockheed Martin Global Training and Logistics

For information about ISM please contact us at
info@industrialsmokeandmirrors.com
ISO 2001:2008 Certified