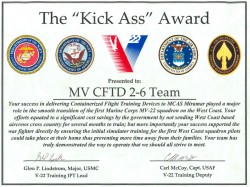 Marine Corps – "Kick Ass" Award
Presented to: MV CFTD 2-6 Team
Your success in delivering Containerized Flight Training Devices to MCAS Miramar played a major
role in the smooth transition of the first Marine Corps MV-22 squadron on the West Coast. Your
efforts equated to a significant cost savings by the government by not sending West Coast based
aircrews cross country for several months to train; but more importantly your success supported the
war fighter directly by ensuring the initial simulator training for the first West Coast squadron pilots
could take place at their home thus preventing more time away from their families. Your team has
truly demonstrated the way to operate that we should all strive to meet.
For information about ISM please contact us at
info@industrialsmokeandmirrors.com
ISO 9001 Certified