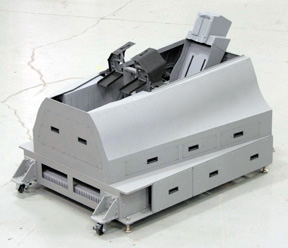 Industrial Smoke and Mirrors ("ISM"), located in Orlando, FL, is preparing to deliver the first of three (3) F-16 Block 50 cockpit configurations to SYMVIONICS Inc., located in Arcadia, CA. ISM is providing a replica all-aluminum F-16 cockpit shell utilizing our patent pending pre-punched rivet saddles that eliminate the need for flanges to create true squared corners for precision manufacturing.
The cockpit will feature a replicated ACESII seat, glare shield, and rudder pedal housing as well as main, side, and auxiliary panels. In addition to engineering and manufacturing the above components, ISM is building the cockpit base frame with levelers and casters for EIA component accommodation, wire trays, bus bars, interconnect panels, and deck plates.
ISM is proud of our continuing relationship with the SYMVIONICS team providing high quality training systems to the exceptional young men and women who serve our country.
For information about ISM please contact us at
info@industrialsmokeandmirrors.com
ISO 2001:2008 Certified